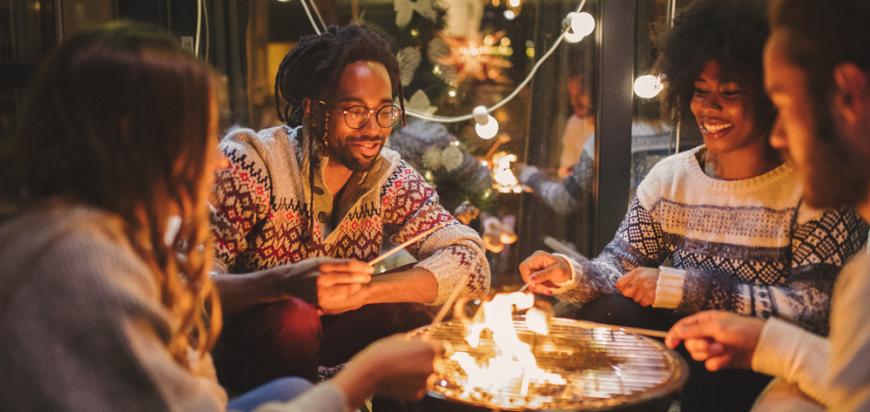 It's November, and I'd wager you're starting to think about updating your content to highlight your winter offerings. The summery photos we saw of sandy, sunny days, poolside fun, and kids smothered in ice cream have been replaced with those of snowy windows, holiday sweaters, and fireside laughter. The fruity snacks on the summer menus have made way for all varieties of peppermint-flavored goodies. And content is shifting from a summer fun focus to one of cozy togetherness.
Indeed, updating your content for seasonal relevance is key to aligning your business with the experiential needs of the visitor audience and creating a special connection that will help drive new customers through your door. This means we need to think about our customer's experience and maybe do a bit of soul-searching. To get you started, take a look at these four creative tips to guide your seasonal content updates:
1. Think about what seasonal experience you'll create for your customers
Aligning your content with an experiential promise to your customers will help you produce content that appeals to their needs and positions you and your team as the solution. What kind of experience are your customers looking for? In what ways are they unique to the upcoming season? How can your business address this? And how will you show that in your content?
This could be as simple as taking some phone photos of customers already having a genuinely delightful experience near your patio fire, your shop aglow in wintery decor, or something else your visitors will want to experience themselves. Don't forget about the natural elements (like snow on the window sills) that communicate charm and ambiance and evoke some pretty positive emotions.
Similarly, while your summer marketing may have highlighted ways to cool down, winter customers are looking for ways to stay warm and be together. Update your ad copy to embrace these needs, highlighting how your business can help provide "warm and cozy" or other words celebrating whatever your experiential promise to the visitor is.
2. Consider the timing of delivery to your different audiences
Remember that your visitor audience is looking for inspiration about your destination — on your CVB or chamber partner's site, for example — several months in advance. But your in-market visitor audience and your (ever so important) local customers are searching for you in the moment. And usually on their phones.
How does this impact your content planning? Your social media and website content should almost certainly run with the seasonal changes: your online menu and events calendar should be up-to-date, and photography and posts should highlight things happening with your business right now.
Marketing efforts targeting your visitor audience might start running seasonal creative a bit earlier, so they land in front of your visitor audience when they're looking for inspiration for their trip (which is a few months from now). Check your listing with your DMO partner to make sure it's highlighting seasonal benefits and photography a bit in front of the season change. And think ahead of time for seasonal publications that will take some time to produce — a winter quarterly magazine will be picked up by visitors in the winter (even if you sent ad copy to them mid-summer).
3. Follow cues from your customer
Positive reviews on Google and Yelp can provide incredible insight into what your customers like about your business and how those things differ from season to season. Look for ways to fold these insights into your own content.
#Reposting — let your advocates work for you! Many, many of your customers are expert phone photographers and would actually LOVE to see their photos shared on Facebook by one of their favorite local businesses. Especially if they've tagged your business on a post — that's your invitation to engage big time and repost if it aligns with your content strategy.
Don't be afraid to ask for permission to use a really great image that somebody else posted to social media in your own marketing. Remember that the fact that an image is on the web does not mean we can use it freely. It's a good idea to ask one of your fans if you can use their image before you grab it, and maybe offer some trade credit for compensation. I'd wager they'd be pretty stoked about it.
(Original post: https://www.instagram.com/p/4qNDItn1Nf/)
4. Remember you'll be doing this again come spring
Yeah, this is a very cyclical thing. If you haven't already, start stocking up on seasonal photography. And hold onto your new content to maybe pick up, tweak a bit, and reuse when you're planning next year's fall and winter content. Also, pay attention to how well (or not) this content performs on social media to glean extra insights about what kind of content your customers like, and then apply those insights to your content strategy.
If you're a DTN Paid Content customer, remember that creative updates to your content are free and help to create a more meaningful onsite experience for the visitor (and higher engagement with your content). We can schedule these changes well in advance if you'd like. Email the DTN Support Team at Support@DTNads.com for details.
If you're tuned into how your customer's needs change from season to season and if you've mastered the art of phone photography, curating a library of seasonal content is a cinch. And you're well on your way to publishing meaningful, relevant content that will resonate with your customers and have a real impact on your bottom line.